Books
Real Alaskan Adventure!
What readers have to say about the Kincaid novels:
Kincaid and the Furious White – "Great adventure, realistic action, and good characters." Joe Campeau
Kincaid and the Legal Massacre – "When I bought my daughter the book she decided to become a wildlife biologist." – Anonymous per readers request
Kincaid and the Killing Meadow – "Fast moving adventure, good plot." Frank Townsend
"My daughter and I really enjoyed reading Kincaid and the Legal Massacre together…what a wonderful historical story with plenty of adventure."  Dotie and Marsha R.
 Such a joy to be feeling like you are actually in the real setting in the scenes of the adventure…T. Usher
Click on book covers to purchase through Kindle and Amazon.com
Titles may also be purchased through Nook
The Kincaid series can also be obtained thru
Danforth Book Distribution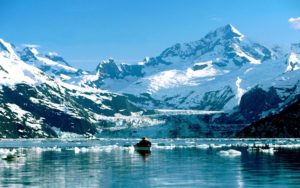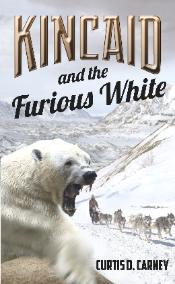 Kincaid and the Furious White
In 1899, James Kincaid travels to the North Slopes of Alaska to discover and explore the newly purchased unknown land. With the help of his Native guide, Moaka, James builds and trains his own dog team, which becomes one of the best sled dog teams in the territory.
He is charged by the Wildlife Service to document the wildlife populations, interact with the Natives and their culture, develop maps of the land, and discover potential resources of this new frontier east of Barrow. As James and Moaka explore and discover their assigned territory, they are confronted by a huge rogue polar bear that has been raiding villages, and has to be destroyed or chased back onto the ice. While battling the marauding polar bear, the pursuit nearly ends in disaster, as a Native is killed and the villagers are terrorized by the spirit struck polar bear.

Kincaid and the Legal Massacre
James Kincaid is assigned to the Pribilof Islands to assist the United States Treasury Department to help control the illegal killing and halt the inedible extinction of the northern fur seal. James and his Inuit guide, Moaka, arrive on the islands from the North Slopes of Alaska to discover the northern fur seal is being slaughtered by several countries, including illegal freelancer sealers from the United States.
The sealing industry is very profitable and the fur from the northern fur seal is in big demand around the world. As men risk their lives for the bounty of the islands, the challenges for James and Moaka become increasingly dangerous. The story combines historical events with intrigue, romance, and high adventure, and has James and Moaka engaged in a struggle to restrain the massacring of fur seals while trying to rescue their wives from freelancer kidnappers.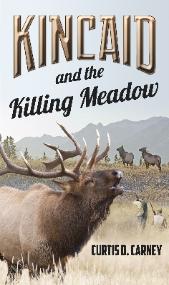 Kincaid and the Killing Meadow
Can James and Moaka stop the senseless slaughter of Alaskan wild game for horns, hides, and body parts….sold to willing markets?
"The Department of Agriculture can support you only a limited amount. The Department may be able to send assistance if you can get word to us in the Wrangell or Petersburg Office, but it will take some time to get help on the way. If I were you, I wouldn't count too much on getting help if you're in the wilderness. Just don't take on what you can't handle and hope you don't get overpowered by the poachers."
James and Moaka are seasoned men of the wilderness and they will have to use every trick they possess to stay alive as they pursue the poachers who are decimating the wildlife of Alaska. They realize most of the time they will be on their own with a limited amount of help from the Department of Agriculture. James and Moaka will be dealing with men who are searching for fortunes and these men are hired by less than reputable marketers for the booty gained by the killing of wildlife. These men of fortune have demonstrated in the past they will let nothing stop them from collecting animal body parts and selling to the highest bidder, whether it be American or foreign markets. This novel displays historical events as documented by Congressional reports depicting the situation in the Alaskan Territory in 1903. In addition, this adventurous historical novel brings forth some of the early struggles that Alaska experienced becoming an orderly society.
Kincaid and the Alaska Treasure
GOLD! GOLD! GOLD! Was the cry that was heard in many parts of the world as gold was discovered in untold amounts in Juneau, Alaska in 1880. The lure of fortunes in gold, the fur industry, the fishing industry, and the logging industry all brought may types of people to this unsettled land, called the Alaskan Territory. Sid Bonner, Manager of the Department of Agriculture, Wrangell Alaska, leaned back on the front of his desk, as he stated to James and Moaka, "The Territorial Governor, John Brady, has insisted that the Department of Agriculture be the lead agency in solving many of Alaska's growing problems, and if we encounter difficulties, we are supposed to request help from our Seattle headquarters." "I summit to you that we here in this office have been given an almost impossible task. It will be our objective to control the mining claims, to stop illegal fishing on or off Tlingit areas, to minimize lands damage during timber sales and contracts, to stop or at least slow down poaching of big game and illegal trophy fishing, and of course, we don't want to forget about the new player on the Alaskan scene, the affluent tourist from the large cities down south, that wants to catch the biggest fish or bag the biggest moose or elk."
James Kincaid and Moaka are tested for their skills in the Alaskan Territory while trying to keep peace between elements of mining, fishing, hunting, and tourism as each industry grows in the year of 1904. They must keep law and order in the wilderness where no law exists. The only law that does exist is in local townships by local sheriffs. James and Moaka must at times be the judge and jury in the wilderness against wild game poaching, and attempt to bring the lawless men to justice to save Alaskan wildlife for the good of the legal hunt.
Kincaid and the Winter Rescue
"James," Soup stressed, "Don't be so hard on yourself. We managed to save the rest of the dogs and that has to mean something."
As the match was blown out by the night breeze, James picked up Minnie and carried her bloody mangled body to the toboggan and announced to the hunting party, "Tonight I lost a good sled dog because I didn't do my job," and then turned and disappeared into the darkness.
James and Moaka are tested to the height of their ability to survive in the wilderness as they are assigned to hunt for lost and missing hunting parties that have been stranded in the high mountains of Alaska by heavy early snow falls.Their task becomes even more challenging when they realize the wolf population has exploded and the wolves are beginning to attack miners and hunters alike. James suspects that they may have some sort of parasite or disease, which is affecting their behavior.
As James and Moaka go about their urgent rescue missions: Bray fights in life and death combat with the wolves, James loses one of his sled dogs to the wolves, and men and pack horses are killed as a result of the wolves' aggression. Although James and Moaka realize the wolves may be overpopulated, the animal is doing nothing but playing out his natural behavior, and James and Moaka must protect human lives.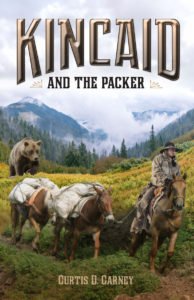 "Stand perfectly still, Ms. Williams," Kelly warned, "or that grizzly will slash you into small pieces. I'm stepping back to get my rifle, and I don't want you to move." Firing two quick shots into the air, the grizzly slowly backed away and disappeared into the brush. "Wow!" Kelly exclaimed, "We have to get away from this kill because that bear will be back and soon."
Kelly O'Brien is establishing a thriving packing business in and around the territory of Wrangell, Alaska. He finds himself very busy with tourists coming from the lower large cities, like San Francisco and Seattle, to Alaska in the year of 1905. His clients are fishermen, hunters, tourists, and scientists coming to Alaska to study the wildlife and the land.
Unexpectedly, the turn of events has Kelly working for the Department of Agriculture as he assists James Kincaid as they try to stop poaching and live game hunters in Telegraph Creek, British Columbia, Canada. The Canadian government has asked for assistance from the Department of Agriculture and James, Kelly, and Soup go to Telegraph Creek to help Jacob Perkins, Canadian Mountie.
In shock, Jacob Perkins demanded, "James, did you have to kill the man?"
Shaking his head, James firmly replied, "Of course. Anybody that shoots at me with the intent to kill will soon find I don't die easy and there will be hell to pay."
---
---
Author:  Curtis D. Carney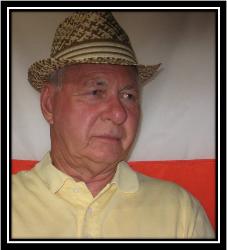 Being a native of Idaho, Curtis has always been close to wild game, good fishing, and high mountains. He traveled extensively throughout the world while serving in the Marines and later in life as a tourist, during his working years and after retirement. In each country he visited, his interest in the country's cultures and traditions were of the upmost importance. For many years, he has worked closely with the Idaho Fish and Game protecting and establishing wildlife habitat, and has given numerous presentations concerning best management practices of rivers and reservoirs. Alaska has always sparked his interest, especially during the period of time just after the initial purchase from Russia. Having traveled broadly in Alaska and being inquisitive about the ancient traditions of the Eskimo people, Curtis was driven to write about the opening of the new frontier.
"If you like a good adventure story, Curt's the author to read!"
Kathy Czosnek Gaudry
---
Author: Lee J. Carney
Become the Bank
Find the Borrower – Inspect the Collateral – Fund the Loan – Collect YOUR Check
It's that simple!
Earning 10% to 20% return on investment securely and consistently, with minimal risk, is the essence of this book. It conveys real-world and practical experience of the author which, when emulated, produces real income and genuine wealth to the reader. This book shows the business entrepreneur and investor how to make safe and secure private money loans and mitigate risks by:
Finding the right borrowers.
Working with controllable and straightforward loan terms.
Collateral analysis that creates ample equity and low loan-to-value ratios.
Structuring loans to produce monthly income while being secured by marketable and tangible real estate.
Loaning personal IRA funds creating tax-free income.
Using financial partners' money to fund loans.
Whether you are a new investor getting your feet wet or a seasoned veteran with a diversified portfolio and years of experience behind you, this book will change your life by introducing you to the lucrative and shockingly simple private lending industry and by teaching you how to have a safe and secure portfolio of private money loans which generates consistent cash flow.
"As a direct result of Lee's insight and experience, I have safely increased my return on investment 200% over last year. Thank you Lee for sharing your knowledge and experience."
Steve Wedel, Senior Business Executive and Private Lender
---
"Wow is only the beginning when reading what Lee has to say. He is right on point when it comes to private money lending. As a full time Realtor and Investor, I know the importance of my private money lenders and what they mean to me and my clients to conduct business. His writing style and knowledge of the subject jumps out at you on every page, a must read for anyone in the business!"
Greg Sofio, Realtor, Real Estate Investor, and Author of "Honey I Quit My Job: How I Went From a J.O.B. to a L.I.F.E."
---
"A true inspiration! This liberating and insightful guide is a must read for investors who seek an "out of the box" way to make money. For all private money lenders, I strongly recommend following Lee's instructions to build a successful private lending business."
R. Naomi Masuda, CEO A-1 Real Estate Closings
---
"In today's hyper-challenging economic world, this book is more on-target and more relevant than ever. In sync with the content, the message is delivered in a no-nonsense, straightforward and easy to comprehend manner. Lee speaks from the heart – and from the trenches as a guy who has lived it. This book can make a difference in your life!"
William D. Hockett, President/Founder, Critical Data, Inc.
---
Lee J. Carney has over a decade of banking and commercial lending experience. During his corporate banking career with Farm Credit Services and Sterling Savings Bank, Mr. Carney risk-assessed and approved over $425,000,000 in commercial real estate loans and personally managed a portfolio of over $42 million in adversely classified loans. In 2007, Mr. Carney left corporate banking to develop safe and secure private lending techniques where everyday investors learn to create wealth making private money loans. As founder and managing director of Mountain Capital, LLC, a commercial private lender located in Spokane, WA, Mr. Carney is a sought after speaker, author, and consultant. He works with investors and entrepreneurs mentoring and educating them of the benefits of private lending and teaching them the most profitable and most effective commercial loan structure for their deals.
Mr. Carney is a Summa Cum Laude graduate of Arizona State University where he received his Bachelor of Science in agri-business management with emphasis in finance. Mr. Carney served four years in the U.S. Military, is an Eagle Scout, and is an active Boy Scout volunteer. He resides in Spokane, WA, with the wife of his youth and two children.